Do It Right And Face Threats Safely - via Scott Safety
AS/NZS 1716:2012 provides a basis for the selection of respirators, training in the use of respirators, checking for fit and provides for the care and maintenance of equipment to help ensure an effective respirator program is in place.
APR's (Air Purifying Respirators) are not suitable for use in oxygen deficient atmospheres, confined spaces, or atmospheres that are Immediately Dangerous to Life or Health (IDLH).
Five Areas To Consider
Have you got an RPE Program that outlines your RPE procedures?

Have you got a training program that ensures ongoing safe use of your RPE?

Have you done the Fit Testing to ensure your RPE provides maximum protection?

What is your RPE Maintenance Program and is your RPE clean and functional?

When should RPE Cleaning take place and is it in accordance to the manufacturers instructions?
Filtering The Environment
Contaminants are encountered in different forms, presenting either a particulate or gaseous/vapour hazard. Different filters are required to protect against particles, specific gases, or a combination of both. The following table shows the colour coding, filter type and main field of application for different respirator filters: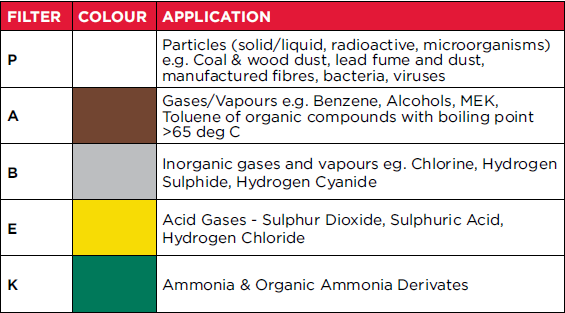 Further Guidance
Scott Safety has developed a number of different documents to aid in the selection of respirators and filters. Technical data sheets are available online via Scott Safety